USB 3.1 VR Link Cable for Oculus Quest 2 / PICO 4
Connect Laptop, Desktop, Computer, DVD Player / Blue-Ray Player, PS3 / PS4 / PS5, Xbox One / Xbox Series / Xbox 360, Fire Stick, Roku, Apple TV, Chromecast, etc with UHD / QHD / FHD / HD TVs, Monitors, Projectors.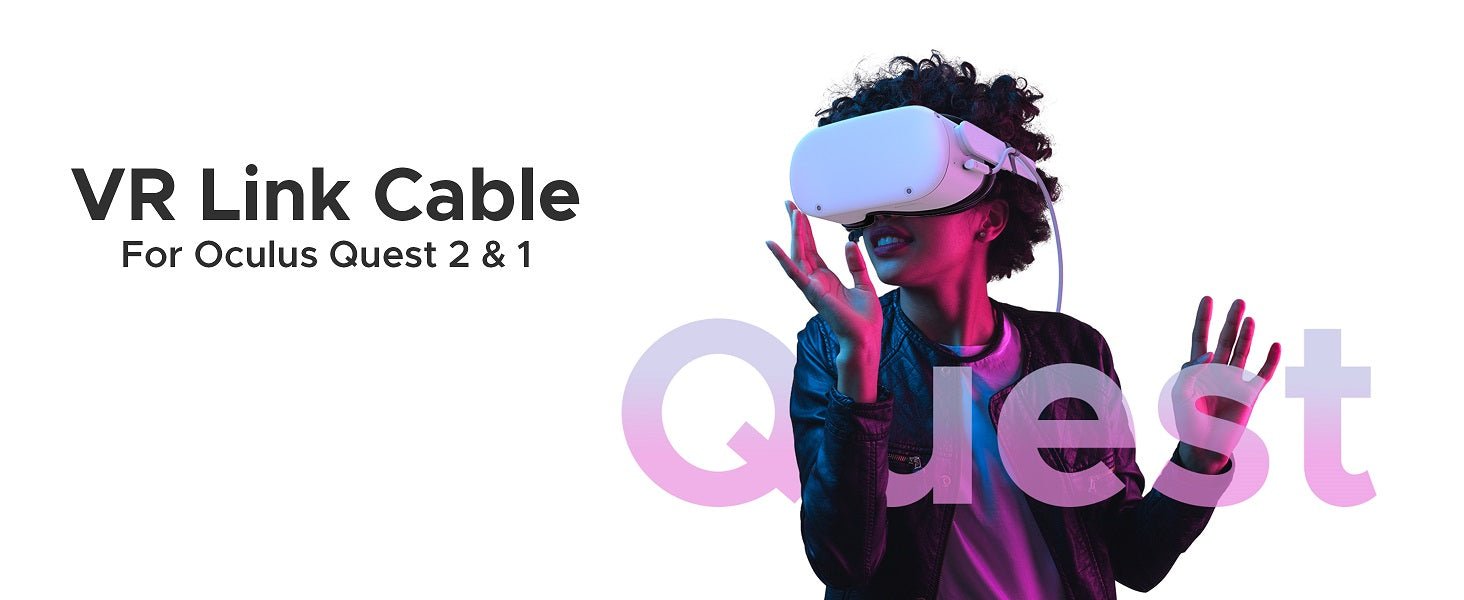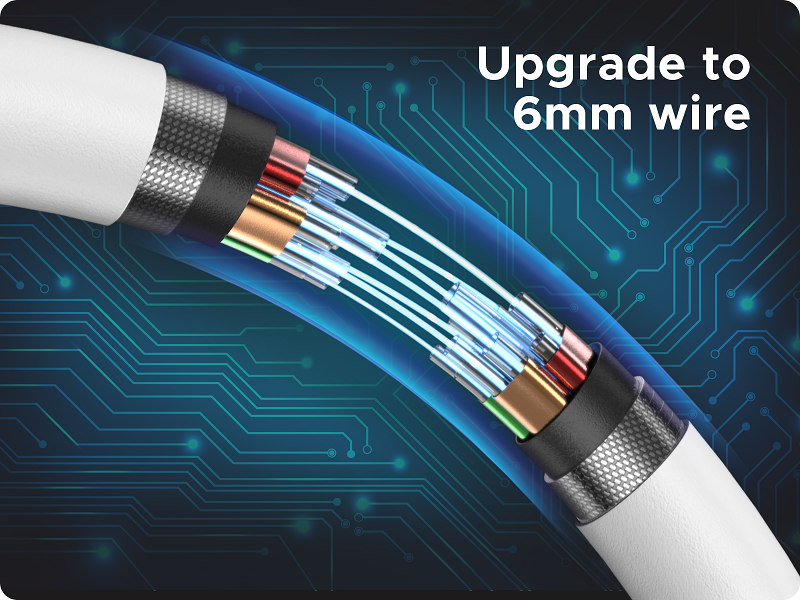 Upgraded to 6mm Cable: More Stable & Higher Performance over Oculus Link
-The resistance in a wire decreases as the thickness of the wire increases.
-With lower resistance, this 26AWG wire (6mm) performs significantly better than ordinary 30AWG wire (4.5mm) at long-range data transmission and power output.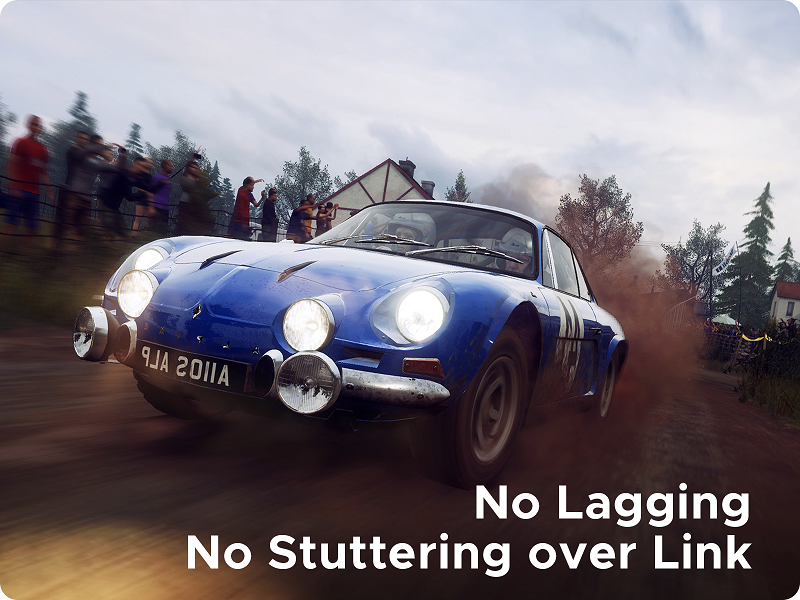 Enjoy AAA PC VR Games: No Lagging, No Stuttering, No Disconnecting
-This USB 3.1 VR Link Cable supports SuperSpeed 5Gbps data transfer speed to ensure every scene flows seamlessly to help you achieve maximum performance in gameplay.
-Help you to stream the game screen on your gaming PC to your Meta Quest 2 headset: No lagging, No stuttering, No disconnecting Anymore.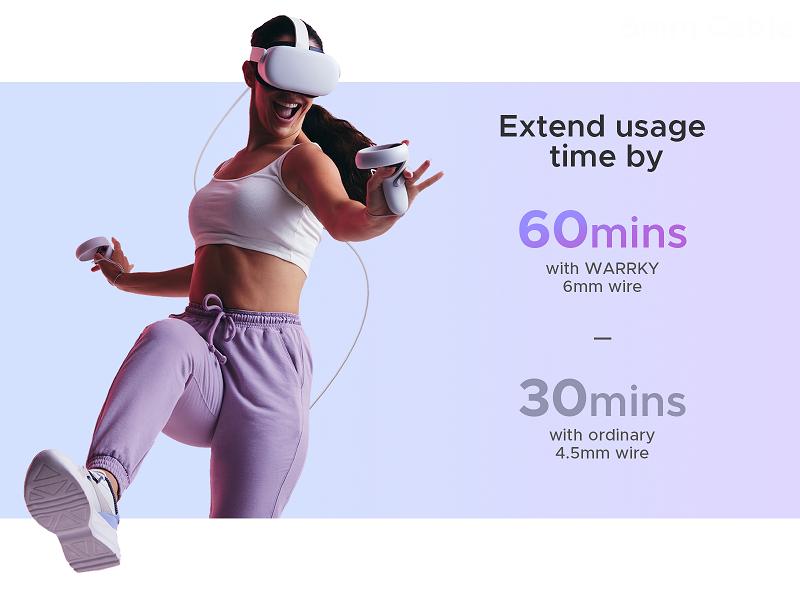 Higher Current Output for More Playtime with VR Link Cable
-Oculus Official says "link cables cannot charge your headset whilst playing, but slow the depletion of the battery." So you can get extra hours of gameplay out of link cables.
-While plugging into a USB 3.0 port (mostly output 5V, 1A), this 6mm cable can provide higher current output (nearly 1A) than ordinary 4.5mm cables (less than 0.8A). Thus, you can get more extra time for gameplay out of WARRKY 6mm link cables.
Premium Design: Improved Ergonomics and Durability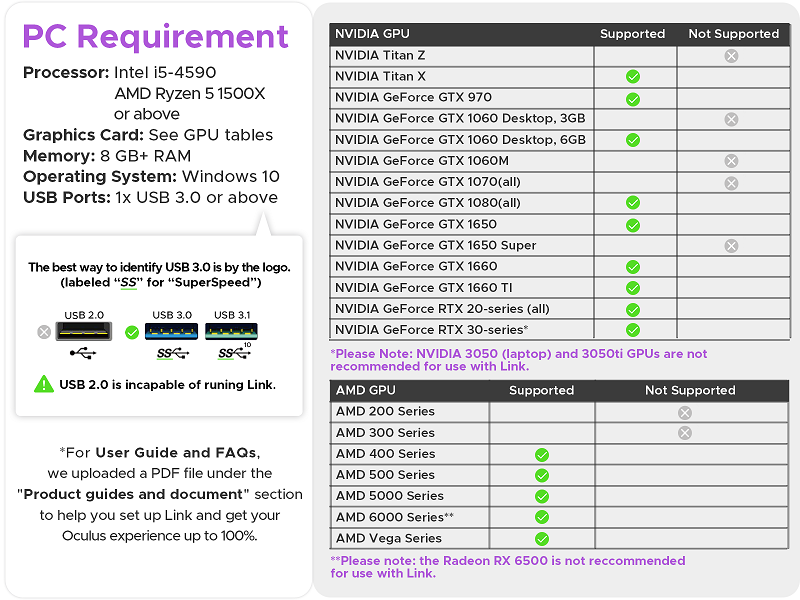 Troubleshooting & Useful Tips
Make sure your PC meets the recommended specs by Oculus.
Make sure your Oculus software is up to date on both your PC and your headset.
Ensure all drivers needed (windows/GPU/USB) are fully updated.
Disable the following settings: PTC (Public Testing Channel) on PC software, Air Link on Headset software.
Reboot the Oculus software and reconnect the cable to use Link again. (*Oculus Link may fail to initialize if your headset is on low battery)