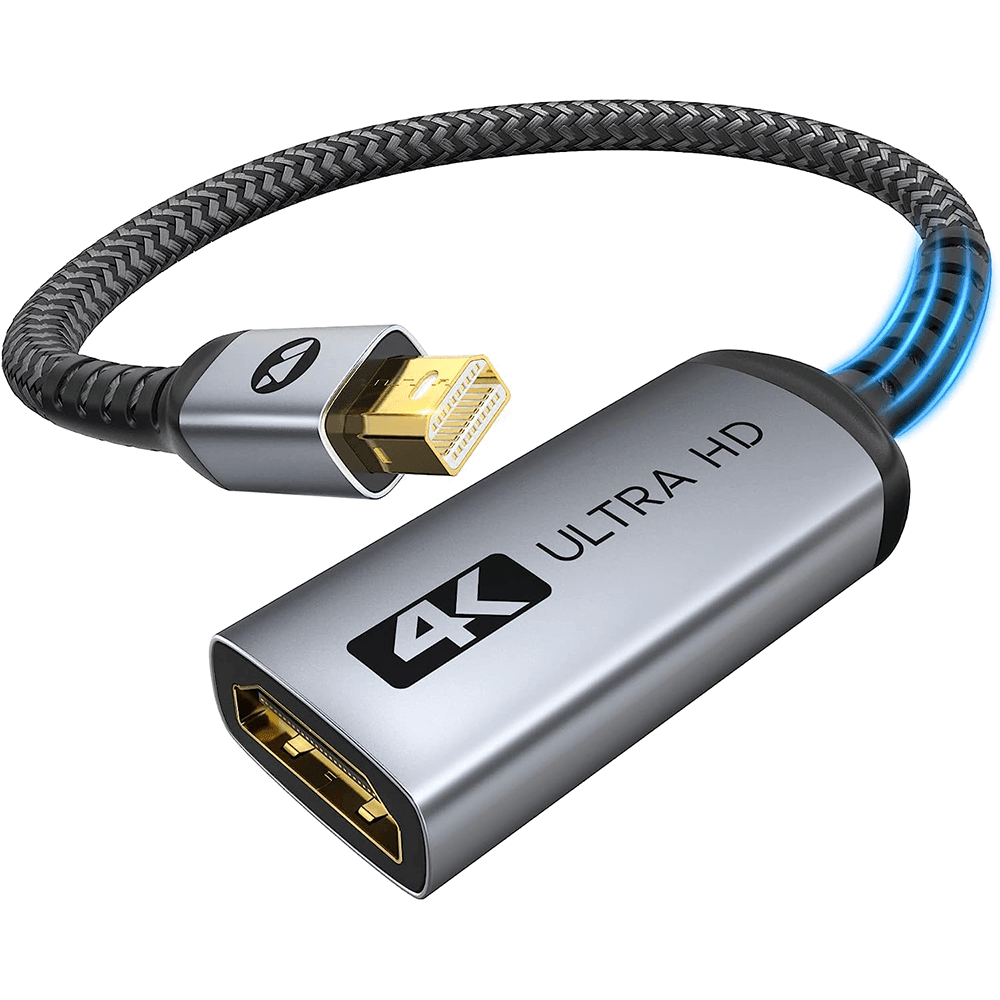 4K 30HZ Mini DisplayPort to HDMI Adapter 0.83ft Silver Gray
---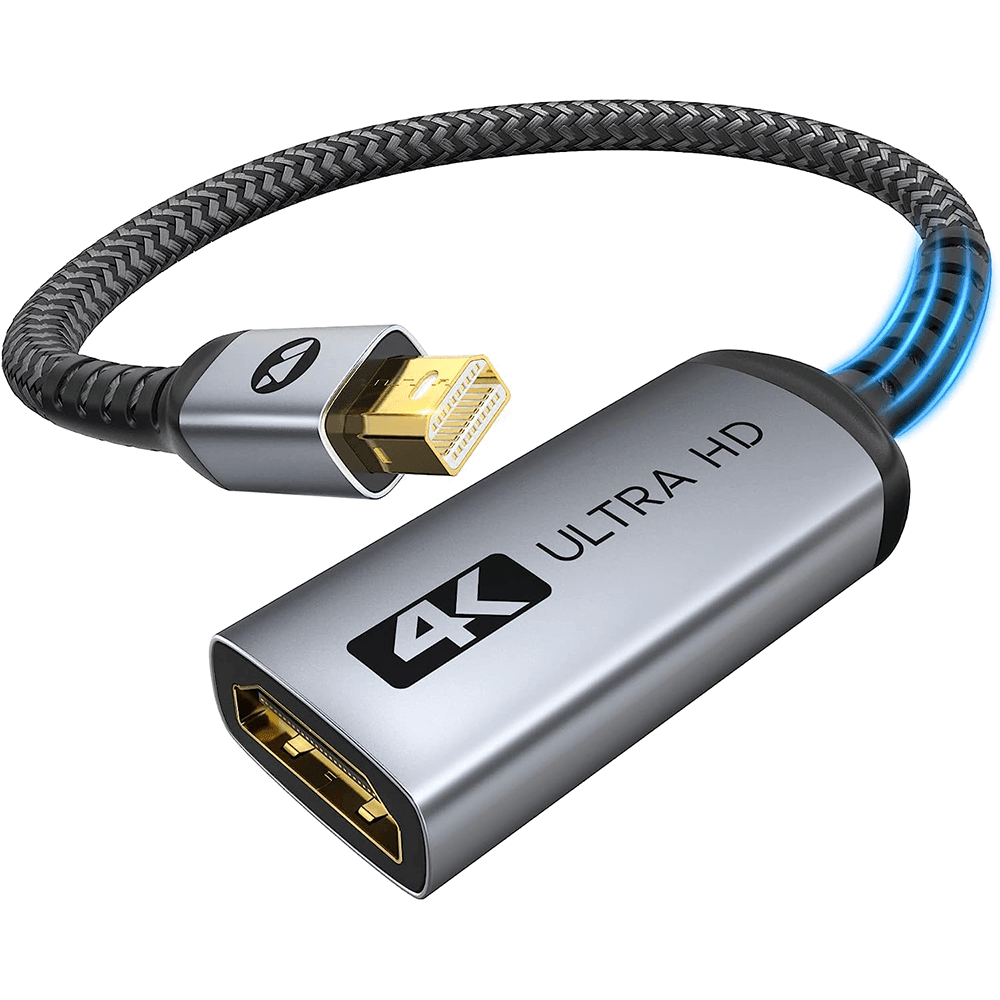 This product has no reviews yet.
Highlights
4K High-Def U.S. Chip Solution with A/V Sync
Going beyond 1080p, support 4K at 30Hz, 2K / 1440P at 60Hz with uncompressed audio channels
Plug & Play. DP 1.2 and HDMI 1.4 Specs
No driver or software needed. No more fear of unstable wireless projection.
Stream protected content from Netflix, Hulu, Disney+, Prime video to larger screens
WARRKY promises before sales every adapter has gone through at least 4 tests regarding functionality and build quality to ensure you receive a good product. Let us know you've still got any questions!
WARRKY's Thoughtful Design for Wonderful Products
24K Gold-Plated Connector
Higher cost for flawless performance
Extra thick layer of gold on the pins, more resistant to interference, preventing intermittent issues.
Seamless molding, anti corruption and breaking.
Sturdy Aluminum Shell
Don't bear plastic-made adapters anymore
Classic space gray streamlined integral molding, anti-cracking.
Matte alu-alloy shell, better heat-dissipation and chip protection. Anti-fingerprint.
Ultra-Durable Design
Superb materials, long-lasting quality
Nylon jacket protects the 28+32 AWG stranded copper wire inside.
Strengthened strain relief design covers all fragile joints 20,000+ bending without connectivity lost.
Ideal for Upgraded Workstation
Release your efficiency with extended monitor
More screens, more handy in work.
Compatible with various operating systems, e.g. Mac OS, Windows, Linux, etc.
Stable signal transmission. No fear for unstable cheap adapter.
4K Movies on TV with Sync Sound
Stunning performance for home theater on a larger screen
HDCP compliant for playing protected content from Netflix, Hulu, iTunes, HBO Max, Prime Video, Apple TV+, etc.
Proven to be less subject to flickering.
Sync audio for uncompressed digital 7.1, 5.1 or 2 channels.
Portable Adapter for Daily Use
Reliable and compact dongle for older machines
Apple MacBook Pro (before 2016), MacBook Air (before 2018) and iMac (BEFORE 2015), Mac Mini (BEFORE 2014), Mac Pro (Before 2013)
Microsoft Surface Pro (1- 6), Surface Laptop (1 & 2), Surface 3, Surface Dock
Dell XPS (BEFORE 2016)
From daily office, business travel, to gaming experience, this is the perfect portable gadget that meets all your needs
Plug & Play 4K Vision with 1 or 2 Displays
- Palm-sized. Compact for mobility
- Support vast TV, monitor, and projector models
- Leverage Mirror/Extended Mode for maximum productivity
work-from-home, level-up workstation, school projects
video conference, business travel, group presentation
family movie night, blazing games, exciting sports finals
KIND REMINDER
PASSIVE, not active. Do not recommend using with docking/hub/KVM
Compatible for Mini DP, Thunderbolt 1 and 2. Not for Thunderbolt 3
For Thunderbolt 1, max. support 1080P
What you Get?
WARRKY 4K Mini DisplayPort to HDMI Adapter*1
Compatible Devices (Not a full list)
Apple
MacBook Pro (2010-2015) , MacBook Air (2010-2017), MacBook 2010, iMac (2009-2015, CANNOT be used as a display monitor), Mac Mini (2010-2014), Mac Pro (2009-2013)
Microsoft
Surface Pro 1/2/3/4/5/6, Surface Laptop 1/2, Surface 3, Surface Studio, Surface Book, Surface Dock
Lenovo
Thinkpad Helix/ X1 carbon(Gen1-Gen 4)/ X230/ L430/ L530/ T430/ T430s/ T530/ W530/ W540p, Legion y7000p
Dell
XPS (before year 2016), Latitude E7240/ E7440, Precision M3800
Nvidia
QUADRO K1200/ P400/ P620/ P1000/ K1200, NVS 510/ NVS 810
AMD
Radeon pro WX 3200/ 4100/ 8200/ 9100, W5700, VII
Others
Alienware, Gigabyte Aorus, HP omen & more devices with Mini DP (Thunderbolt) port. *Support all mainstream operating systems